One of the key things that can make Christmas truly magical is a trip to the theatre. This Christmas Exeter Phoenix is showing a special play called Jabberwocky. Fun for the children, the performance runs from 4th December until the New Year on 4th January. At Edge House we're sure that this is a must-see for families everywhere, whether you're local or visiting.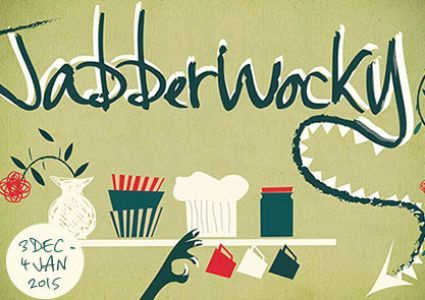 (via Exeter Phoenix)
What's it about?
Inspired by the classic poem by Lewis Carroll known as 'Jabberwocky' the play is a ridiculous adventure. Filled with nonsense and fun, it is just as peculiar as the original poem. In the poem a father tells his son to beware of the mysterious 'Jabberwocky'.
Describing it as a creature that lurks in the woods with horrible claws and teeth, it is quite a grotesque and startling being. The son takes his sword and goes out looking for the creature and other nasty beasts, finally killing the Jabberwocky. Returning to his father with the head, both son and father celebrate the victory.
Who created it?
Quirk Theatre adapted Carroll's poem to bring it, for the first time, onto the stage. The South West based theatre company has long been known for their creativity. Providing many innovative live theatre performances in the past, they have wowed audiences with a number of their experimental and clever features. From shadow puppetry and multifunctional props, to projection and beautiful set design, the company offers a truly unique theatre experience.
Who is the play for?
The play is the perfect Christmas outing for families and schools. Primary school children will love the simplicity and ridiculous nature of the play. Various performances are being held for both the public and school parties across the festive period. An extra special performance is being held on 21st December as a British Sign Language (BSL) Interpreted Performance with a more relaxed atmosphere for those with hearing problems or disabilities. Tickets can be purchased online or from the venue.
Why should I go to see it?
If you're feeling particularly stressed this Christmas or the kids are exhausted as the end of school approaches, the play is just the thing to boost your moods. Children can benefit from the nonsensical language and comedic sequences. As much as it might be silly, it will grip young imaginations and let them flourish, which is what any good book or performance should do! Parents can enjoy the fun too with the superbly performed script so that everyone will be grinning like a Cheshire cat.
Keep up to date with what's happening in and around Exeter by having a look at the rest of our blog. Here at Edge House, our luxury 5 star cottage is available for families or couples alike. Book your stay in Branscombe and make the most of Devon's coastline. Contact us with any inquiries.